Exporting the client is optional. Many firms only keep paper copies of minimal documentation such as the final signed financial statements and perhaps the engagement letter. However if required the completed file/individual pages may be downloaded. Many firms are opting for paperless with all attachments uploaded so no printed file is required.
Printing individual pages
Pages may be printed if required from the print page command (tab at the bottom right of each page).


Pages from outside the workbook (for instance review notes and follow-ups) are not included in the final audit file but may be printed if required using the browser print (ctrl+p) function.
Exporting full jobs
A full job may be printed to PDF at any stage if required from the Print/Export Client (PDF) command as shown in the screenshot below: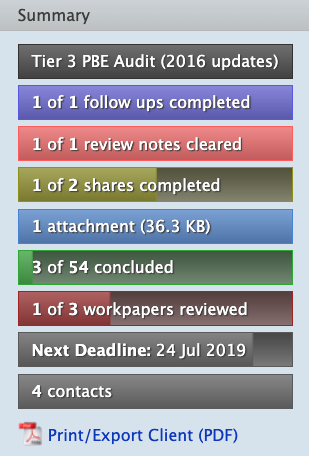 Clicking the link will open up a dialog with options to either download the job as a PDF with all attachments as links within the PDF or for downloading a zip file with all attachments separately as shown below: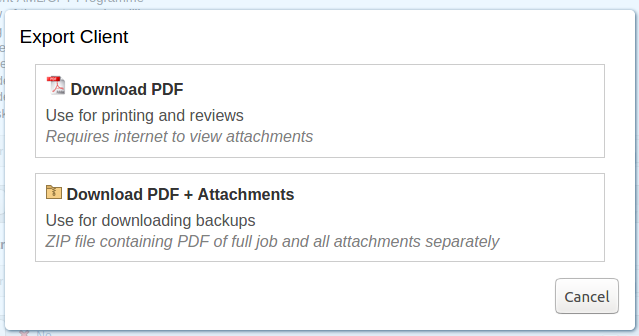 Both options will export a PDF with all attachments as links that can be accessed as long as there is an internet connection. The option to download PDF + Attachments will pull all attachments and the main PDF into a zip file. This option is best used for storing backups. See also Annual rollover.