Auditing and assurance standards have been integrated into a logical flow following auditing best practices.
Planning including risk identification flows through to testing based on risks identified, then finally to a summary of the work done and results obtained. Finally, appropriate reports are produced.
The user begins work in the A section, completing planning at the E section, then completing evidential testing according to the risks and other factors identified in planning while working through the F to V sections. Finally, in the W to Z sections the work is completed with a summary of the work done and results obtained and production of appropriate reports as follows: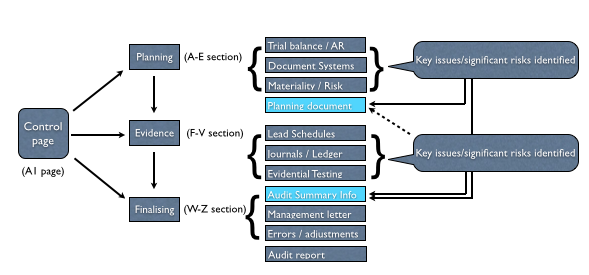 Each job is driven from the Control Page - a summary of the whole audit with branches to subsections

Includes the ability to load the client trial balance, and create journal adjustments

Emphasis is on risk identification at the planning stage and creation of audit plan around these identified risks

Each risk identified must then be addressed in terms of the level of risk and appropriate audit response which is then carried through to selected work papers

Further risks identified during fieldwork require planning document to be updated

Other key pages are Trial Balance, Materiality, Risk Assessment and Planning, Adjustments, Management Report and Audit Summary

Evidence is added into the file by way of comments and attachments

Questionnaires and checklists are shared with the client to gather data and evidence

Management letter points, errors, key issues, follow-ups, deadlines, etc. are identified during the process

Includes full review process options, comprehensive references to auditing standards and financial reporting checklists

At the conclusion, the job is rolled over which combines all pages and attached files into one PDF document for archiving

Rollover sets up the job for next year, with content able to be brought forward and edited as required.