The XRB recently released some statistics (gathered from DIA Charities Services) regarding the take-up of the new standards for charities since April 2015.
Some interesting facts emerge:
There are 1,088 Tier 1 and Tier 2 charities—only 4% of all registered charities
Tier 3 represents 24% of registered charities
So Tier 4 represents a whopping 72%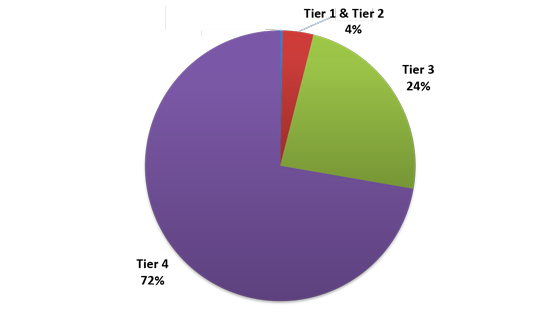 Predictably the uptake (time to comply with requirements) has been slower among the lower tiers:
In 2018 Tier 1 and 2 have 100% uptake
Tier 3 had 95% uptake in 2018
Tier 4 have 71% uptake in the same period
Looking at our statistics in terms of templates used:
For Tier 3 entities, 84% are audited and 16% are review engagements 
For Tier 4 entities, 61% are audited, and 39% are reviewed
Out of total Tier 3 and 4 audits, 91% are Tier 3 and 9% are Tier 4
Out of total Tier 3 and 4 reviews, 75% are Tier 3 and 25% are Tier 4
Our Tier 1 and 2 templates are combined with FPEs and so we cannot give any specific details about the split here.
The predominance of Tier 3 work makes sense because Tier 4 entities and many Tier 3 entities are not required to be audited (over $1m expenditure) or reviewed ($500k-$1m). However there are obviously many entities not required to be audited or reviewed opting in - possibly for funding purposes.
Another very interesting publication from the XRB breaks this down:
There are 2,565 charities with a total annual expenditure between $125K and $500k (Tier 3 but not required to be audited or reviewed)
Nevertheless 64% of these had their financial statements audited or reviewed in their most recent financial year (mainly due to a requirement in their founding document)
50% of these charities that did not have their financial statements audited or reviewed  have their financial statements compiled by a chartered accountant - presumably providing a level of perceived assurance
The authors seem to indicate that there is space for a kind of assurance that provides information about whether a charity has appropriate and effective internal financial controls in place - a systems type audit.*
A couple of tips:
For small entities wanting some kind of assurance for funding it may be appropriate and more economical to complete an Agreed Upon Procedures engagement 
Remember if you have Tier 4 clients that are struggling with reporting we have developed a Tier 4 PBE Simple Format Reporting Tool. You may create the job (from the "other" tab), set up your client as a "limited user" and then add them to the job. They will be able to use the generated login to complete their reports.  If your accounting department has a lot of these types of job they may wish to sign up for a separate subscription just to access this content. Contact us for more details. 

*We don't currently have templates for the audit of controls (in terms of SEA 3150), but this is something we want to develop, and could well be relevant to future requirements for small charities.