Contacts are set up within individual jobs. These are the people who will receive audit documentation (engagement letters etc.), and who will be required to complete shared questionnaires and checklists.
They will be clients contacts, management, governance, and other key employees, but may also be an external accountant or solicitor say.
Contacts are set up from the contacts page in the sidebar or at various points within the workbook.
Contacts page
The contacts page (found from the "contacts" bar in the sidebar) is the most versatile place to add contacts. It is one click away from any place in the client file and allows a variety of actions on contacts.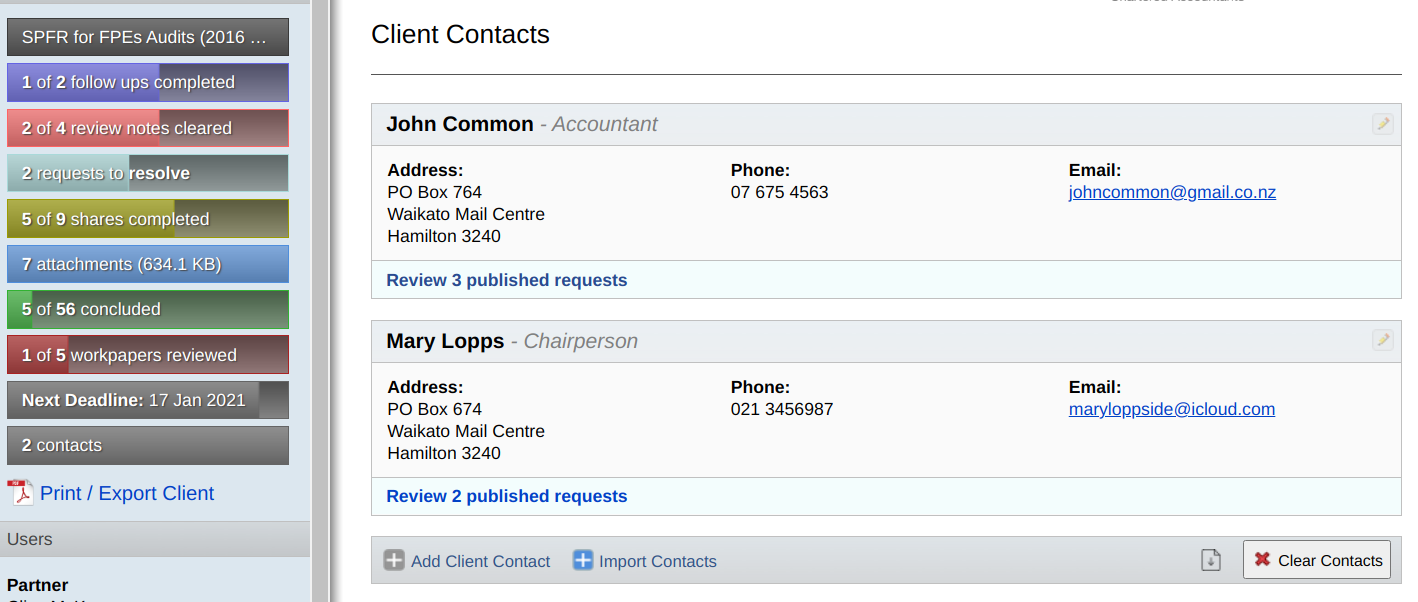 If a contact is linked to any requests that have been published, a link to review published requests can also be accessed on this page.
Within the workbook
Within the workbook there are a number of places where the details of contacts will be requested – select the name from the dropdown - for example:



Client details may also be entered directly at these points – this will also update the contacts list: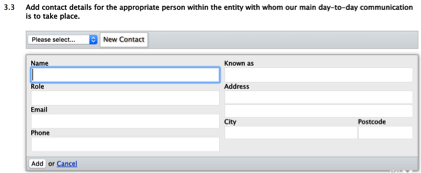 When the key contact person is entered into this section of the control page their details will appear in the sidebar – as a quick reference for phoning or emailing these contacts during the job: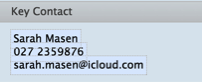 Edit, delete or add single contact
Contacts behave like most items on Audit Assistant.
To edit, click the pencil icon on the top right of each contact, make any changes in the editor, then click save.
Delete a contact by editing one and clicking the delete button on the editor.
Add a contact using the "Add Client Contact" button, fill in details, then click save.
TIP: New contacts may also be added at many points, but they may only be edited from the sidebar client contacts tool
Export, import or clear
Contacts can be imported in bulk in a similar way to the trial balance. The "Import Contacts" button provides a template that can be used to fill in contacts on a spreadsheet. This can then be uploaded using the "Choose file" button.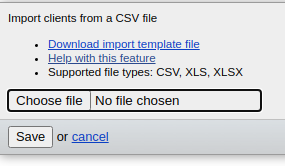 The export contact button (next to the Clear Contacts button) can be used to download a spreadsheet of all contacts on the client. This can then be uploaded to other clients that share client contacts.
Viewing contacts across all jobs
The Contacts tab on the home page displays the names and details of all individual client contacts across all jobs:


• This enables a search to be carried out for multiple jobs that a person is attached to (for related parties work say).
• It also provides a shortcut to find contact details for all clients on the system.
• Follow the hyperlinks to go directly to the relevant job.